Respected. Responsive. Reliable.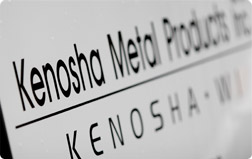 For more than 45 years, we have been striving to live up to these three words at every level. From working intimately with clients to understand and then meet their specific needs, to providing unique solutions—we pride ourselves in being a resource that people depend on.
Our business philosophy is to strive for excellence in all we do and to exceed the expectations of our customers. Our goals begin with zero defects and 100% on-time delivery. These goals are the responsibility of every Kenosha Metal Products employee. We also strive for the highest levels of responsiveness to accommodate the individual requirements of our customers; all of which is supported by dependable communication and our dedication to customer service. Beyond this, we are continuously seeking improvements in all of our business processes.
This dedication has allowed us to meet the AIAG's standards for a Tier 1 supplier. As a result, we have a long history of providing critical components to the auto industry. Our customers include major OEM and Tier suppliers for American, Japanese and European automakers.
Some of the product areas we supply:
Tier 1 supplier for powertrain components
Tier 2 & 3 supplier for heat transfer systems for the trucking, construction and automotive industries
Supplier for brake components
Supplier for air bag/safety systems
Supplier for steering column stampings and assemblies
Tier 1, 2 & 3 supplier for North American and international automotive companies
Kenosha Metal Products has received numerous awards. Click here to learn more.